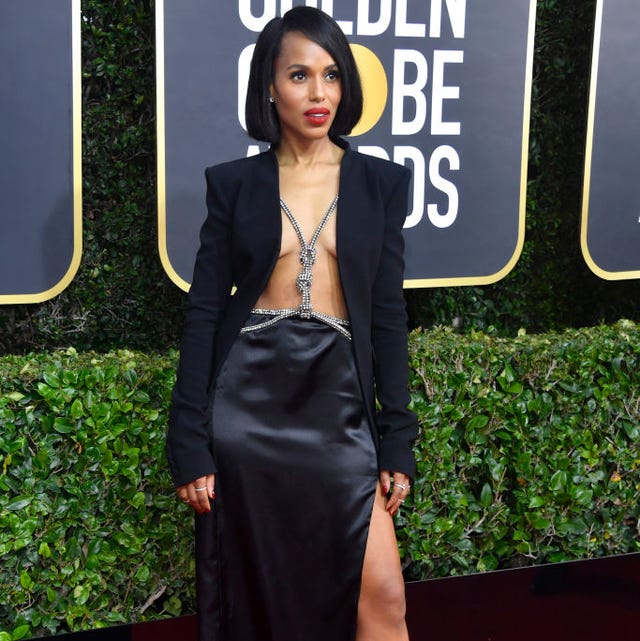 Frazer HarrisonGetty Images
Award season for 2020 has officially begun, and the Golden Globes did not disappoint. The red carpet featured Billy Porter's angelic feather train, bedazzled ear muffs by way of Rooney Mara, and everything in between. See who made the cut on our list of the best dressed celebs at this year's red carpet ahead.
1
Billy Porter in Alex Vinash
Why: It's not every day we're blessed by an angel. Well, excluding every time Billy Porter makes a red carpet appearance. His head-turning style was up to par at the Golden Globes, this time in a coat with a feathered train, styled with Jimmy Choo shoes and Tiffany & Co. necklace.
2
Cate Blanchett in Mary Katrantzou
Why: Speaking of angels, Cate Blanchett wore literal wings. She led the trend of balloon sleeves at the award show, complete with a jeweled bodice and matching canary yellow shoes.
3
Rooney Mara in Givenchy Haute Couture
Why: Say it with us: Only Rooney Mara could pull off bedazzled ear muffs (alongside Queen Amadala). She wore her statement headpiece with a demure, black lace gown.
4
Kerry Washington in Altuzarra
Why: No shirt, no problem. That was Kerry Washington's dressing M.O. and we are here for it. If you're feeling frisky, try her harness and blazer combo on your next girl's night out.
5
Dakota Fanning in Dior Haute Couture
Why: We fully back the princess poof trend, and no one did it better than Dakota Fanning. From the sweet lavender hue to the barely there tulle fabrication, she basically floated down the red carpet.
6
Beanie Feldstein in Oscar de la Renta
Why: I am the last person to condone a padded headband, but I support it on Beanie Feldstein. She paired the divisive hair accessory with a gorgeous metallic navy gown.
7
Oliva Coleman
Why: In case you didn't know that Olivia Coleman is queen, she showed up as one in a regal scarlet dress. The striking silhouette also followed the aforementioned puff sleeve trend we noticed at this year's Globes.
8
Gillian Anderson
Why: Don't be fooled by this deceptively "simple" look. At first glance it's just a white dress, but keep looking and you notice that the devil is in the details, including a knotted half-cape, a perfectly tailored fit, and a surprise look-back-at-it necklace, as featured in the next slide.
10
Cynthia Erivo in Thom Browne and Bvlgari Jewelry
Why: Tuxes on the red carpet are the norm, but a sequined gown version? Yes, please. Cynthia Erivo did us one better with a Bvlgari necklace that features a forty carat center sapphire surrounded by 56.65 carats of diamonds.
11
Zoe Kravitz in Saint Laurent
Why: We're still picking up our jaws following Zoe Kravitz' wedding dress reveal earlier this week, so we're happy to spot her at the Golden Globes wearing an gorgeous dress that's almost as good as her bridal gown.