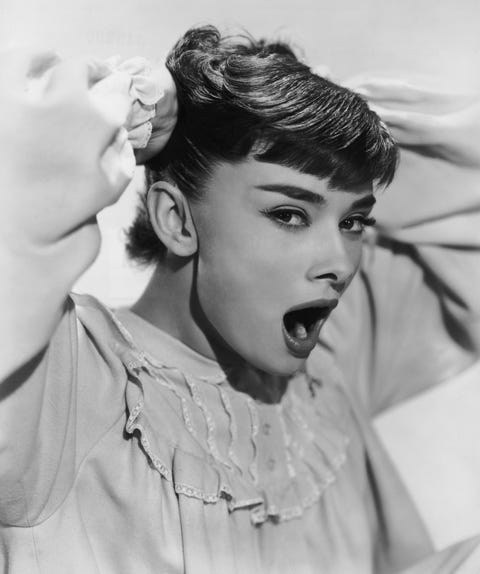 Archive PhotosGetty Images
Sometimes, when I close my eyes, I can still remember what it feels like to wear a bra. Or footwear that isn't lined with fur. What I can't remember is when time stopped holding meaning, so lately my hours are marked by when it feels right to brew coffee versus uncork wine. One of the biggest indicators that time is currently (always?) a construct: our recent lack of a dress code.
In an effort just to timestamp my existence, I began swapping my daytime cozies for a nighttime set. With my excitement levels plummeting, my body yearns for a midday outfit change, if only to boost some much-needed serotonin. But is that normal?
I checked Twitter to gauge my level of mid-quarantine insanity. In my search for an answer to my jammie query (alongside 'Does Bravo hire people to professionally watch its programming?' and 'What is the recommended daily serving of pizza rolls?'), I found that I wasn't alone in this style delirium. There were others seeking a sleepwear-related thrill.
Still, questions persist. Am I supposed to know the difference between day and night PJs? What triggers the transition? Is a nightie by definition relegated to nighttime hours? I vowed not to impose rules on how I cope during these troubling times, but I narrowed it down to five tips on what differentiates AM to PM dressing. I hope these guidelines give you sweatpants solace during these troubling times.
Morning Pajamas
Keep It Functional.
Working from home is an adjustment for everyone and what you wear plays a role in how well you'll adapt. During the day, I'm emulating Audrey Hepburn in Roman Holiday, lounging in the most shapeless, oversized garment possible. While you zero in on the day's work, wearing a pair of breathable drawstring pants or an oversized shirt dress allows you to focus on your office hours, not your outfit.
Maintain a Zoom-Friendly Topper.

Slumming it can get difficult when you have a series of Zoom meetings to attend. Investing in a cashmere set or a knit pullover can refine your relaxed look without interfering with comfort. No one has to know you're sporting coffee-stained, snowflake pajama pants just out of frame. Pro tip: A classic button-down pajama shirt masquerades as a WFH-appropriate top.
Nightime Pajamas
Embrace Extra-ness.
Once happy hour hits, "ME" time has officially commenced. I'm swiftly transitioning to Jenna Rink—Big Time Magazine Editor—as portrayed by Jennifer Garner in 13 Going on 30. I'm talking slip dresses, boudoir slides, or silk pajamas trimmed in feathers. We can all use something to look forward to at the end of a long day,— feel free to indulge after hours.
Remember, Sleep Is Chic.
Everyone from Rihanna to Zendaya co-signed PJs-as-party attire, so your virtual Kiki 'fits will be well received. However, you have to hit the sheets at some point. Keep your nighttime attire conducive to an eight-hour slumber. Give your feathered jammies and lacy garments a trial run to ensure you can actually snooze in your luxurious loungewear.
Always
Comfort Above Everything.
No matter what your life looks like right now, your PJs should speak to you (since real conversations can be scarce these days). A change in clothes signals that time has passed, meltdowns have been had, and lessons may or may not have been learned. So embrace the chaos and wear what feels right.
So until the inevitable loungewear hangover sets in, I'll be slipping into the same amount of comfortable and pouring myself a cocktail.